Renowned poet Ananya Chatterjee is back with another brilliant collection of verses called, 'Another Soliloquy'. This time 'The Poet & His Valentine' writer has teamed up with noted poet Shruti Goswami. Although Shruti's poems have published online and in magazines, but this is her first poetry book.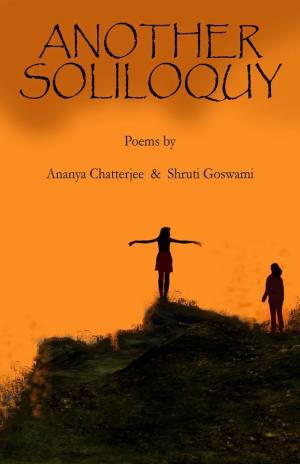 As expected these two beautiful minds have come together and created something unique, something cerebral and something so fresh that it is bound to touch the reader's heart.
Another Soliloquy has 25 mesmerizing verses from each poet. While Ananya tried to deal with some darker, mysterious and rarely discussed facets of human characters along with some romantic poems, Shruti's poems, meanwhile, range from being earthy and tender to sarcastic.
"The Betrayal", "Hush", "Insanity", "The Green eyed monster", "The Ignominy" are composed in signature Ananya style. Her lucid renditions describe the illuminating experience of a boat-ride on the Ganges at dusk, the sudden enlightenment of a mother whose child has grown up and left, the feelings that harangue the mind right before committing a betrayal, the ignominy of a school-going child when she refuses to alter her moral stance and the self-love of those who brag about their intelligence, to name a few.
Ananya's verses also deal with some hard-hitting topics including child-abuse. It also has cascading soft lyrical narratives of how a deciduous leaf finds her lover.
Shruti prefers being called a "translator of emotions", her poems always have an undercurrent of love as a main theme. Be it nature, or human relationships, or a relation with the self, love is always the underlying factor. The emotions are palpable, even with the most sarcastic of her poems which speak of injustice or broken faith. Some poems blend human with nature seamlessly, while others speak of a deep yearning for inner peace in one's life.
About Ananya Chatterjee :- She is a gold medalist from the University Of Calcutta working as a software professional for a multinational company. She is a bilingual poet and translator in English and also the author of the bestselling title, The Poet & His Valentine, a collection of verses. Her work has also been published as part of the anthology on erotica, Hot Summer Nights 2014 by Inner Child Press Ltd., USA. Ananya has also worked as a translator for some poems by Soumitra Chatterjee, published as part of the coffee-table book Forms Within.
About: Shruti Goswami :-  She is an Architect & Urban Planner by profession, was born and brought up in one of the premier industrial townships of Durgapur, West Bengal. She is inspired by the simple things in nature, and love is her deepest motivator. Her poems have been published in several national and international journals and anthologies like Taj Mahal Review, Harvests of New Millennium, Scaling Heights, Heartstrings, Inkspot RadioShow, Suvarnarekha and on online poetry journal such as Fragrance. She also writes short stories in Bengali and they have been published in several magazines.
Book Details:
Book Title:
Another Soliloquy
Publisher:
Shambhabhi
Language:
English
ISBN:
1500457310
EAN:
9781500457310
No. of Pages:
64
Publication Year:
2014
Order Now:

| From | Binding | Price |
| --- | --- | --- |
| | Paperback | $8.09 |
| | Paperback | INR 180 |
Ananya Chatterjee
Another Soliloquy
Book
new release
Poet
poetry
Shruti Goswami